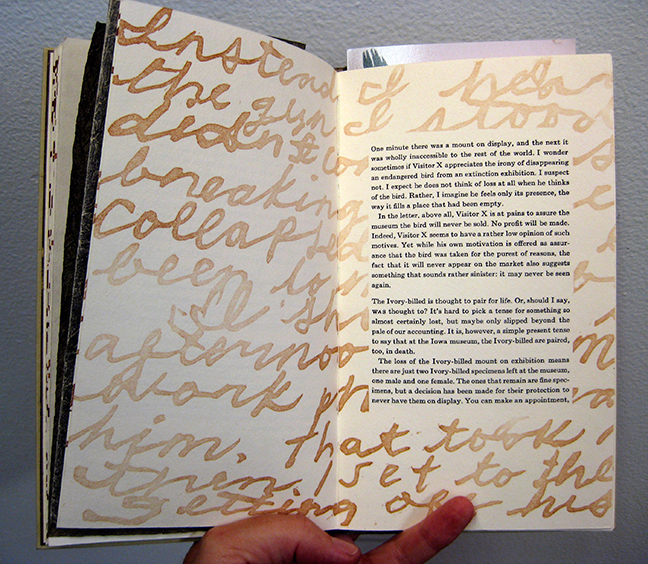 With
Lee Marchalonis
The Mystery of Musty Hide
The Mystery of Musty Hide was designed, printed, and bound by Lee Marchalonis at the University of Iowa Center for the Book. Text composed by Alison K.Greene. Printed from linoleum and 10- and 12-point Palatino type. The innards are Rives heavy, the skin is UICB flax case paper. 2014. Edition of 30 deluxe and 20 standard copies.
From Lee Marchalonis:
During a joint residency last summer at the Ora Lerman Charitable Trust Foundation, A. Kendra Greene wrote the text that is presented here on the right hand side of the spreads. Greene's text contextualizes and describes the theft of an Ivory-billed Woodpecker mount from an exhibition on extinction. I have presented her text in hand-set 8-point Century Schoolbook, surrounded by another text which has ben carved into linoleum and printed. The surrounding text is excerpted from Carl Akeley's autobiography, and describes an elephant hunt and subsequent skinning of the animal in the field in order to prepare it for inclusion in the African Hall of Mammals at the American Museum of Natural History in New York. Included in the book are three images: a photogravure of a Grevy's Zebra from the University of Iowa Museum of Natural History, collected and taxidermied by Akeley, the stoic expression of which led me to further research into Akeley and the early 20th century naturalists, a sheet of paper I made from flax fiber and treated with ink and beeswax to give the impression of elephant skin, and finally a photograph inkjet printed on Japanese lens tissue taken in the archive of the University of Iowa Museum of Natural History of the remaining two Ivory-billed Woodpecker skins mentioned in Greene's text.